JOURNAL
Journal Getting Started
The Journal has been designed to allow for several different ways to journal. Journaling can be done by:
Classic free-form writing: open an empty "page" and typing whatever comes to mind
Facilitated writing: allow CanSurround to provide a thought-provoking question to stimulate self-exploration
Photo journaling: Record inspirations, events or the journey by uploading photos from your mobile or desktop.
Within the banner photo there are two options for starting a journal entry. The first button opens a blank writing page. The second button opens a facilitated writing page.
The section below is where journal entries from previous days are kept – click on any entry to return to that journal entry.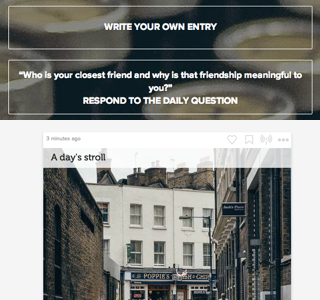 Journal Entry
Click the camera icon to upload a photo.
Add a title to the journal entry or a caption for the photo.
Type your story in the main body.
Click the vault icon to save your journal entry to the "Vault" The vault is a confidential space that nobody will see. Vaulted entries will not appear on your timeline.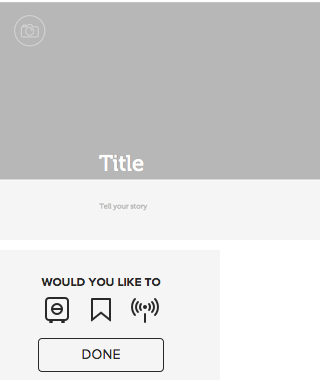 CHECKLISTS
The Checklist Main Page
The Checklists in this feature are designed to help you understand cancer care within the health care delivery system. Some may be more applicable to you depending where you are in your cancer journey. The checklists do not need to be used in any particular order. Click any checklist that you think is pertinent to you and explore away.
These are checklists that have been opened and completed or are still in the process of completion
Orange circles indicate there are items not checked off on a checklist that has been started, while a green circle indicates all items have been checked off as complete on the checklist
The Checklist Library section contains all the checklists not currently in use or completed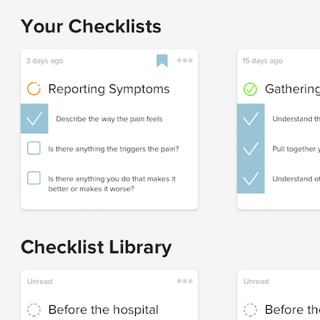 Navigation Within the Checklists
Within each checklist you often have the ability to click on different areas for more information, but it is not necessary if that area does not interest you.
You also have the ability to "check off" items on the checklist that you feel you have completed or understand.
Links within the checklists: in some checklists there are links to other resources. Clicking on these links will display the resource in another window. CanSurround will remain open in the previously existing window
Click on the checklist items to display more information
Click on the checkbox to indicate it is "done" or understood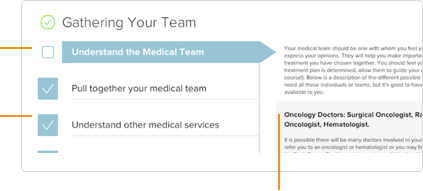 Clicking on "highlighted" items expands for further information
THOUGHT INQUIRY
Thought Inquiry Getting Started
Thought Inquiry is a simple yet powerful process that teaches you to identify and question the painful thoughts that cause you stress of any kind. It's a way to understand what's hurting you, and to address the cause of your problems with clarity. CanSurround's Thought Inquiry feature is based on "The Work" of Byron Katie. This process has helped millions worldwide for almost 30 years.
CanSurround has adapted "The Work" into an online format that walks you through four questions and a turnaround and invites you to see (and listen to ) the answers shared by others who have taken their stressful thoughts through the inquiry process. Thought Inquiry allows you to work on one thought at a time.
On the top right of the screen, you are invited to begin choosing a thought to take through inquiry.
Orange circles indicate thoughts that aren't complete, while a green circle indicates a thought taken to completion.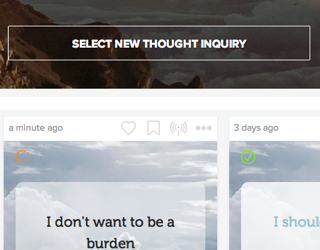 Thought Inquiry Selecting Thoughts
The next screen will offer you a selection of common stressful thoughts often associated with the cancer journey. These may be the thoughts of a patient, their caregiver, loved ones or friends. Simply read through the thoughts and notice if any resonate with you. Are you currently believing any of the thoughts listed here? click on the thought and the facilitated process will begin.
Click on the thought from the list below. If you do not see a thought that resonates with you, you may click on "Write your own thought" at the bottom.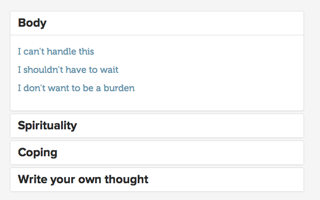 Thought Inquiry Process
You will have an opportunity to:
read the thought inquiry and the answers from others, with intermittent, optional invitations to write your own answers to the questions and rate your distress
listen to an audio version of the thought inquiry by clicking the orange play button or
scroll though the written words as you listen.
If you choose, add your personal answer here and at other points, when asked along the way.
Rate your distress at different points in the process.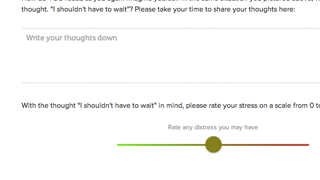 SUPPORT NETWORK
Support Network Getting Started
Strong social support has been shown to reduce stress and improve health care outcomes. We invite you to add up to 5 supporters (your friends or family) to participate in your experience on CanSurround. Your supporters will be able to view only the parts of CanSurround you have chosen to "Publish" to them. They will be able to comment on or "like" what you have published. Supporters will also be able to see your other supporter's comments or likes. Supporters will not be able to see any parts of your CanSurround that you have not published!
Supporters who have already accepted an invitation to participate on CanSurround
Supporters how have been asked to participate but have not yet accepted the invitation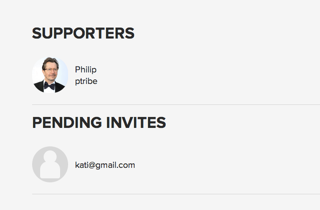 Inviting Supporters & Publishing
Enter the email of up to five supporters you want to join you on CanSurround. Once you hit invite they'll receive an email invitation.
Anytime you see the publish icon in CanSurround you can publish what you have written or uploaded. When you publish something it will be viewed by the supporters you have invited onto the system and who have accepted your invite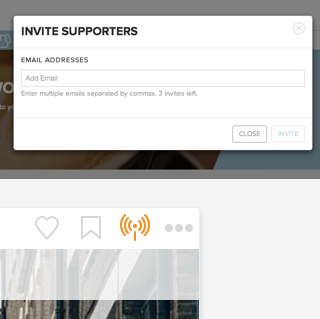 TUTORIAL VIDEO
HOW TOs
JOURNAL
Journals are a great place to write down your thoughts and emotions. Share them with your supporters or send them to the vault.
CHECKLIST
Checklists are a great way to organize, think, and learn about everything you need throughout your process. Your progress will be stored here.
THOUGHT INQUIRY
Thought Inquiry is a process of reviewing your frame-of-mind and converting negative ideas and feelings to positive ones. Give it a shot, you'll be surprised.
SUPPORT NETWORK
Your support network is a vital aspect to your recovery and healing process. Invite 5 of your closest supporters to join you in your journey.